Integrated architecture and real estate development firm Optima, Inc. has announced its construction team has topped off Optima Verdana, a new luxury six-story, 100-unit rental apartment building at 1210 Central in Wilmette. Located across Green Bay Road from the Wilmette Metra commuter train station, Optima Verdana is ideally positioned for North Shore commuters, featuring 176 parking spaces, as well as electric vehicle charging stations.
With the concrete structure complete, Optima has installed the glass exterior panels on the first, second and third floors, with façade work continuing to move up the building. Aligning with Optima's commitment to sustainability and the natural environment, the glass on the first three floors is bird-friendly, featuring a subtle pattern to help birds avoid the glass.
Optima Verdana will feature one-, two- and three-bedroom apartments with an average size of 1,499 square feet to give residents more flex space for ever-changing lifestyles. The boutique building will also feature 8,000 square feet of street-level retail space, as well as a publicly accessible plaza with an original 8-foot sculpture by Optima CEO and co-founder David Hovey Sr., FAIA.
"Every detail at Optima Verdana has been carefully curated – from using green concrete in the construction process to the signature vertical landscaping system," said Hovey. "We are excited to move into the next phase of interior construction and begin pre-leasing this spring, as we've experienced unprecedented interest from residents on the North Shore and across the country."
Inspired by the word "verdure" – meaning lush, green vegetation – Optima Verdana marks the Chicago-area debut of the latest evolution of Optima's signature vertical landscaping system, which was developed in Arizona but modified to accommodate the Midwest's four seasons. In what will be a first for the developer in the Chicago area, Optima Verdana plants will stay green year-round and be maintained by Optima's property management team. The self-containing irrigation and drainage system promotes evaporative cooling, re-oxygenates the air, reduces dust and smog levels, decreases ambient noise and detains stormwater.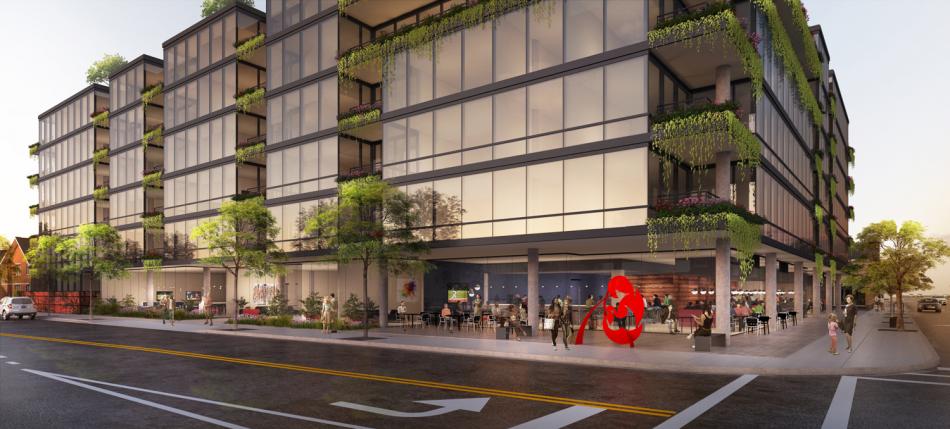 Read more on Urbanize Chicago
Visit Optima Verdana for more details